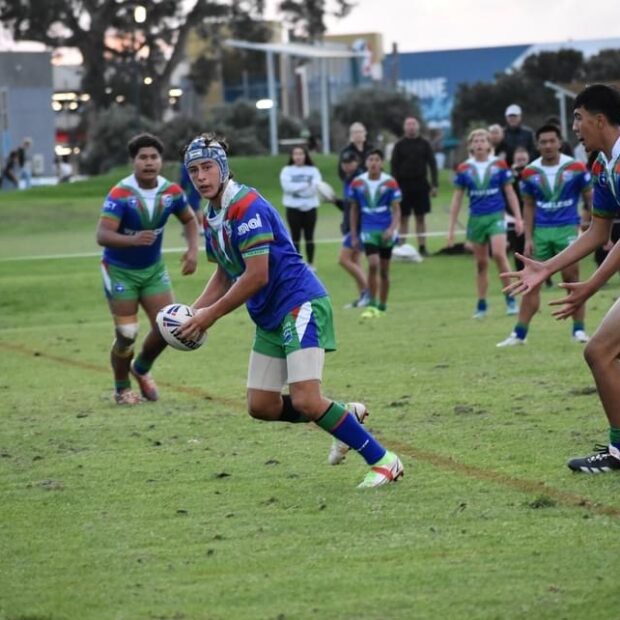 Bittersweet Departure for Tauranga Teen Chasing NRL Dream
By Sam Ackerman
One of the most promising young sporting talents in the Bay of Plenty is about to leave the country.
This isn't a story about a disgruntled athlete throwing his toys and taking his talents elsewhere – rather a grateful one who plans to represent the region as he chases his dreams.
15 year-old Marley Igasan is taking up a contract with NRL heavy hitters the Brisbane Broncos as part of its contracted elite development squad, his recruitment putting him on a pathway towards rugby league's big time.
It wasn't a hard decision from a sporting point of view, but it was from a personal perspective.
"I look at it as a bit of inspiration," Igasan says. "I'm the only boy they've looked at from this area in my age group. It's a big privilege to be able to say that I'm from Tauranga and make all my friends and family proud that I've achieved this goal from here.
"In a way, I think I represent all the Kiwi kids that want to go over there and play footy. So it's a good opportunity for me to take that one on my back. it's just good to represent where you're from and I plan to never forget that."
Igasan has crammed much into the last six years since his parents, James and Michelle, decided to bring their son and his sister Piper 'home'.
And that's exactly how Igasan views Tauranga. It's allowed him to connect with his culture and to fully understand who he is, where he comes from and what he represents.
"My time here has been unreal," Igasan enthuses. "I've always been proud of being Māori and a Kiwi but to be surrounded by that culture is something that will always stay with me."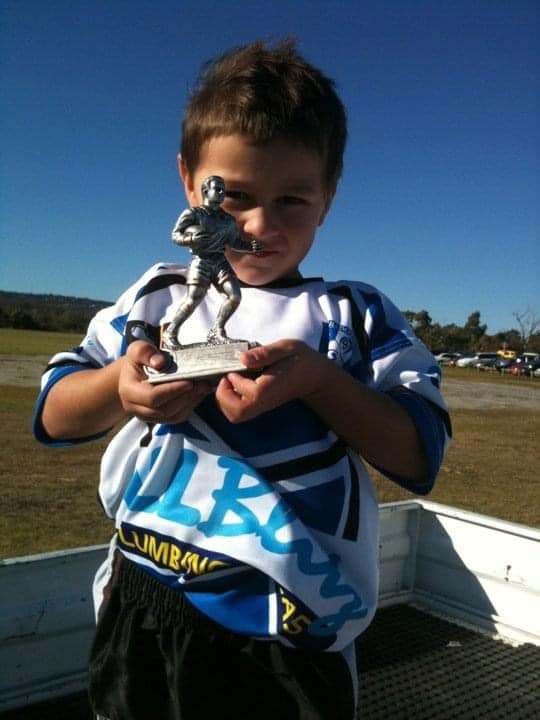 Born in New Zealand but raised in Perth, Igasan has been playing league since he was 4 years old. Since relocating to his adopted province in 2017, he has become embedded in the Coastline Rugby League environment. Igasan has pulled on the jersey of the Otūmoetai Eels, the Whalers and the Upper Central Stallions, going on to be crowned the district's supreme player of the year.
Igasan (Ngāpuhi and Ngāi Tahu) has grabbed every opportunity to represent his heritage. For the past two years, he was named MVP in his age grade at the Rangatahi Māori Rugby League Tournament while starring for the Pikiao Warriors, going on to co-captain the NZ Māori U15 team at the Pasifika Youth Cup this year.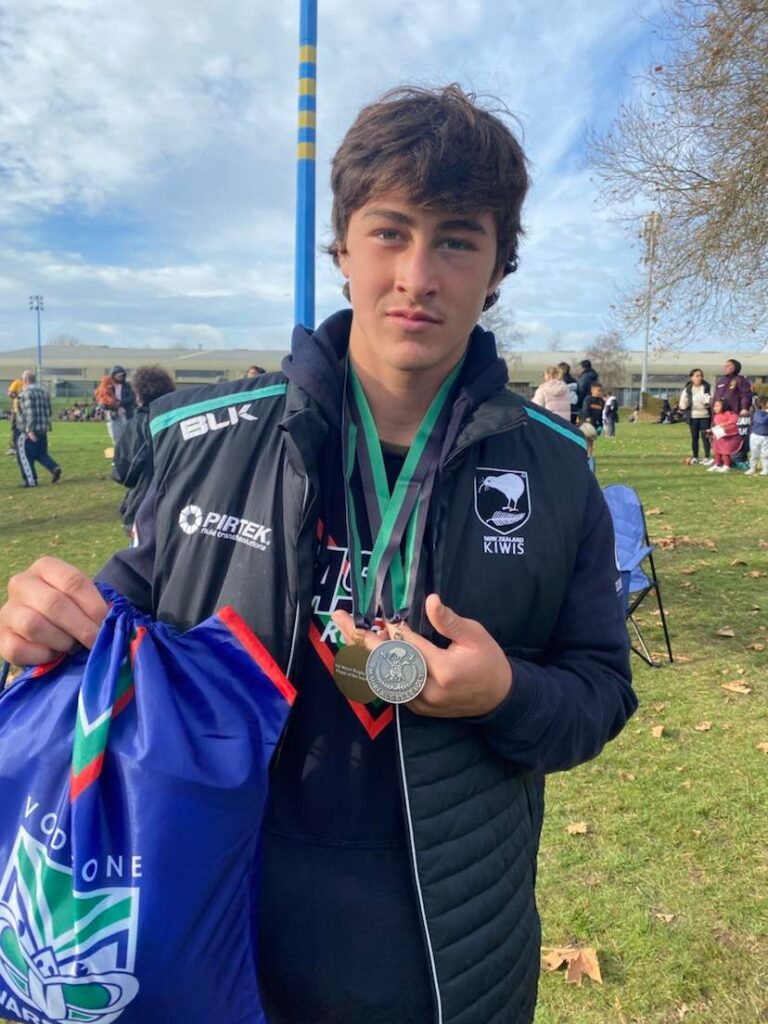 He also co-captained the Aotearoa Whānui U16 side (made up of players South of the Bombays) that competed against the Auckland Invitational squad.
All this in between jetting back and forward across the Tasman to train with and finally represent the Broncos elite development squad, further underlining his dedication to succeed.
Some junior athletes stand out with flashy skills or blistering pace. What sets Igasan apart is his versatility and on-field work ethic.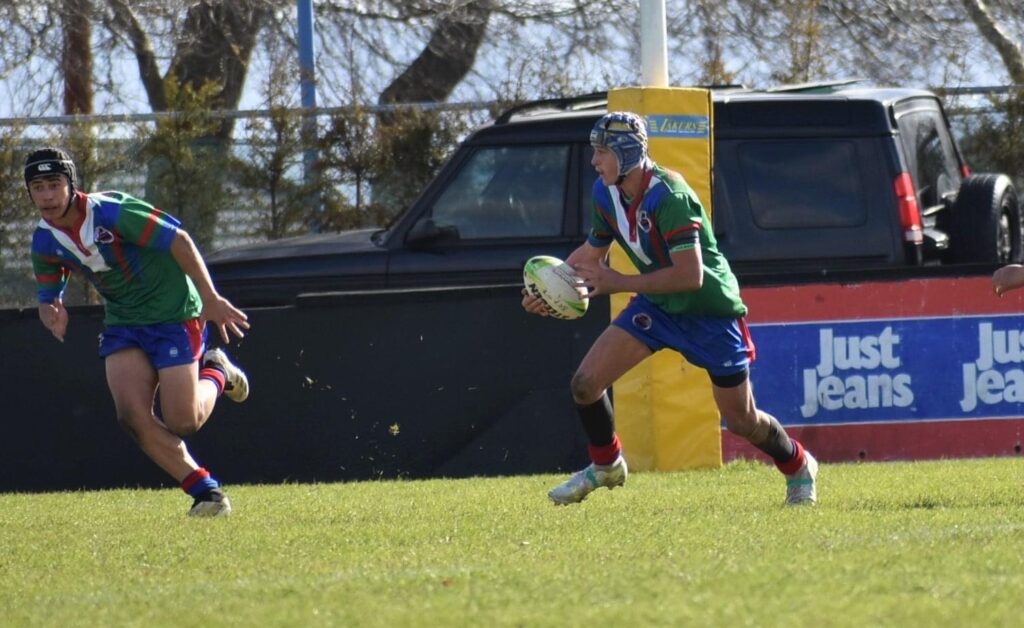 While comfortable running attacking plays from within the halves and at hooker, his unrelenting defensive drive has also seen him spend time at prop – though it would appear the number 13 jersey is the best fit to mix his ball playing skills with his thirst for physicality.
His oval ball skills aren't limited to the 13-man code. Igasan, a former BOP Roller Mills rep, made the Mount Maunganui College 1st XV not long after his 15th birthday, helping them to the Baywide championship in 2022.
Unsurprisingly, the devoted sportsman hardly sat idle during his Tauranga summers.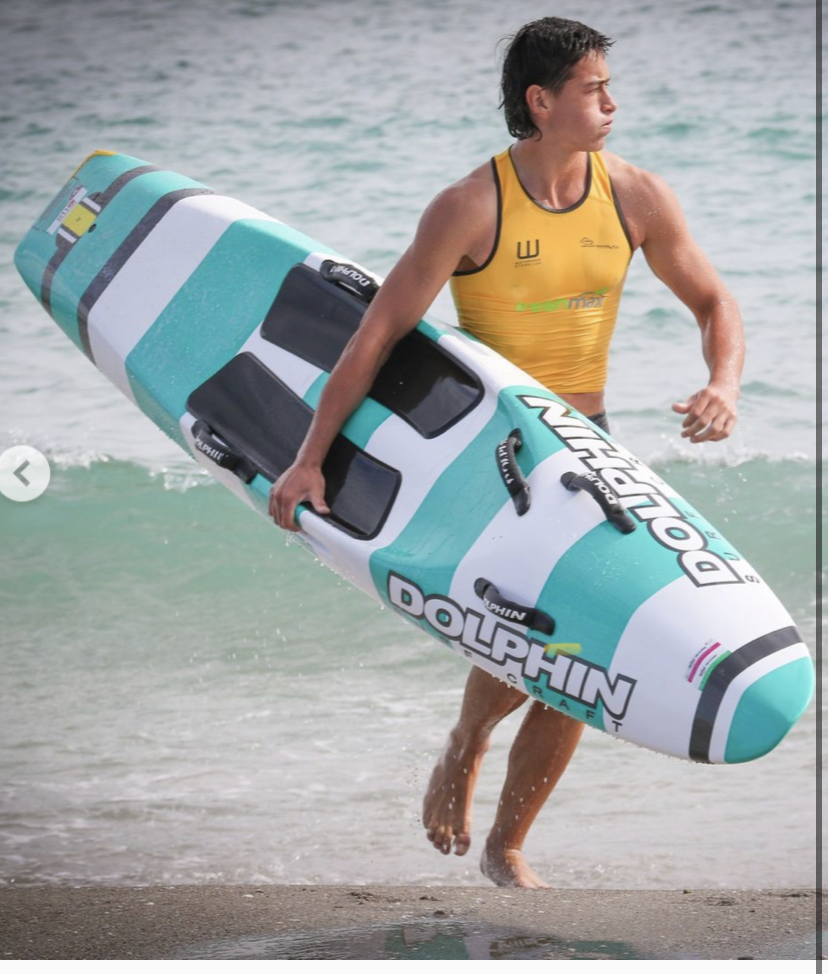 A qualified lifeguard, you can find Igasan's name engraved on numerous awards at the Mount Maunganui Surf Lifesaving Club, as well as racking up a string of National titles at the country's mecca of junior surf lifesaving, the Oceans Festival. The Igasan siblings have also been two of the prominently athletes featured in TVNZ's Life Savers series.
While devoted to his athletic achievement, Igasan's already showing a mature head on his shoulders by finding ways to be of service to the local community. From patrolling its beaches to working as a rippa rugby ref and volleyball coach, Igasan is a role model to many young Tauranga locals, refusing to slot into the self-centredness stereotype often presumed of those on the elite sporting expressway.
Igasan credits his parents' influence in finding that balance. "Yeah, they raised me right, they've taught me to use my manners and be confident but not cocky. I owe a lot to them, for helping me be a good sportsman and good person in general.
"They've always told me to keep putting in the mahi, to never stop unless you want to quit, which in our family is not really a thing to do."
It's also part of what drew the Broncos – as well as interest from other clubs like the powerhouse Sydney Roosters and NRL newcomers the Dolphins – to Igasan in the first place. Broncos Academy Manager Mick Kennedy explains why Igasan's signature has been so highly sought after.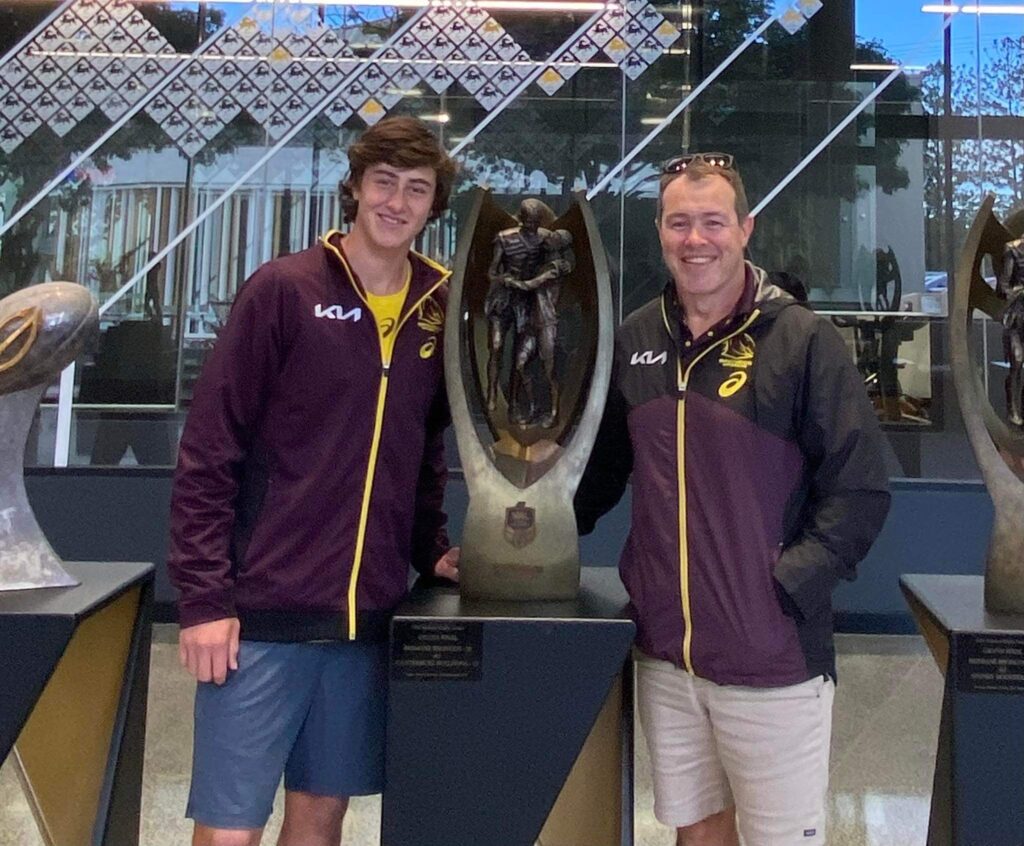 "Marley's not only a talented kid, but he has high attention to detail. He does a lot of clean-up work, particularly defensively, that goes unnoticed a lot of the time but certainly not unnoticed to his teammates.
"The main attribute that attracted me to Marley is his competitiveness, his will to win out on the field. Every time he steps on the field, he's doing everything he possibly can to win the game for his team. Players with those types of attributes generally do really well.
"He's a nice, humble young man – as long as he's prepared to work hard over the next few years, I'm sure he'll have a really good opportunity."
That shouldn't be an issue for Igasan, never one to complain about a heavy workload.
In the space of a week in June, Igasan played four games in two days at the Māori tournament in Rotorua, drove to Auckland to fly to Brisbane for physical conditioning testing before the return trip 24 hours later, then straight back to Tauranga for school the next day. On top of that, he squeezed in three rugby training sessions and, oh, a game of social basketball.
And it would have been more had bad weather not cancelled his club game.
Igasan is buzzing about joining the Broncos development system that has the legacy of turning juniors into superstars.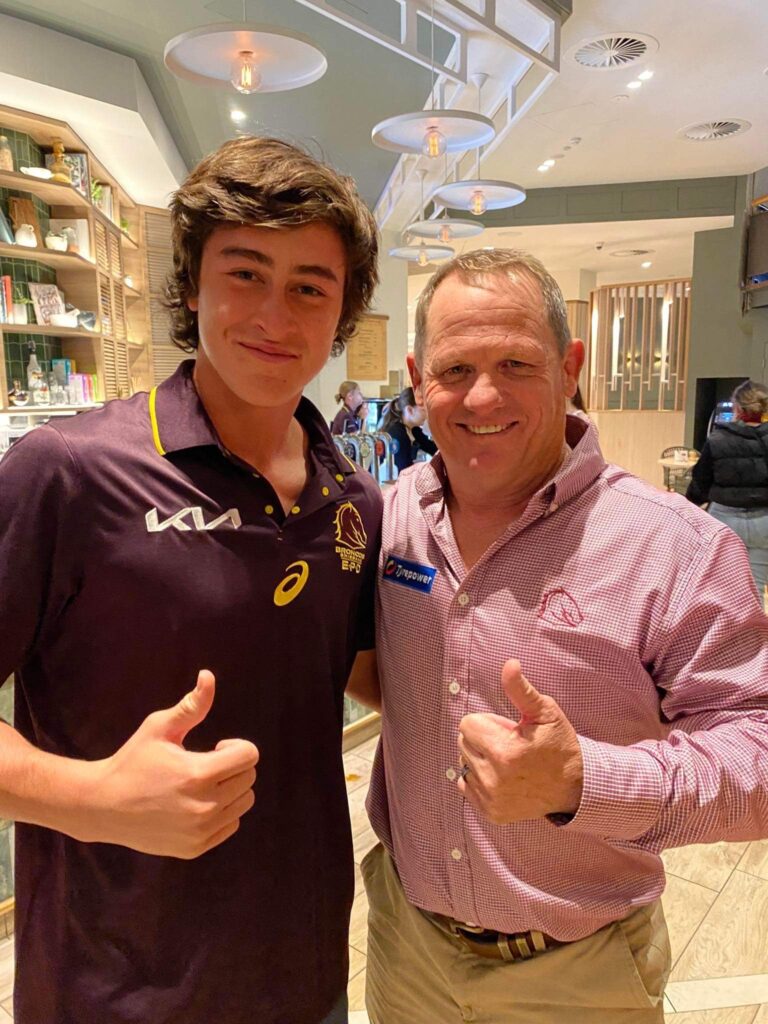 "You see all the photos on the wall of premierships won with the likes of Darren Lockyer and you look at the honours board with all of the players you looked up to when you were growing up. It's amazing, it's a real professional place to be."
So highly is Igasan regarded that the Broncos were prepared to allow him to stay based in Tauranga, commuting Trans Tasman regularly for testings, trainings and games while following a personalised training programme.
But the opportunity to get more regular quality football and more tournaments at his disposal was one Igasan knew he needed to take – and the sacrifice of moving with his family one they were willing to make.
"The long term goal is make it into the NRL and have a really good career but also to be a good person while doing that, finding a way to support different charities and the community. But on the rugby league front, hopefully I will give it a good crack and be one of the greats to come from New Zealand."
That sounds like a lofty and bold ambition, but Igasan has already shown he doesn't sit around waiting for his goals to happen. He's willing to do what it takes to make them a reality.
Category
Content
Date
January 13, 2023
Author
ackermerc